Dr. Glenn Reinhart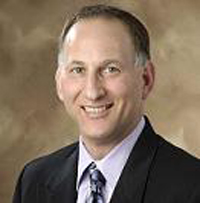 Dr. Reinhart specializes in orthopaedic Sports Medicine with a concentration on knee and shoulder surgery. He also has special interests and expertise in pediatric/adolescent orthopaedics and in shoulder replacement surgery.
He completed a fellowship in Sports Medicine at the renowned Kerlan-Jobe Orthopaedic Clinic in Los Angeles. Dr. Reinhart completed his residency in Orthopaedic Surgery and received his M.D. degree at Northwestern University. He graduated with honors as an undergraduate at Princeton University.
Dr. Reinhart serves as an instructor for the Arthroscopy Association of North America teaching advanced knee and shoulder arthroscopic techniques at national conferences. He was a faculty member of the Department of Orthopaedic Surgery at Northwestern University Medical School where he had extensive duties teaching orthopaedic residents.
He has served as team physician for numerous clubs, high school, collegiate, and professional teams. He assisted in the care of the Lakers, Kings, Mighty Ducks, Angels, Dodgers, and Rams in Los Angeles. With his special expertise in youth sports, he has conducted many community clinics for coaches and athletes.
Dr. Reinhart is board certified by the American Board of Orthopaedic Surgery, and is a member of the American Academy of Orthopaedic Surgeons and the Arthroscopy Association of North America.